Extraordinary Storytelling for Tour Leaders
A step-by-step system to tell engaging stories, earn better reviews, and be more memorable.
Watch Video
Enroll in Program
Our training has been featured in...

EXTRAORDINARY STORYTELLING FOR TOUR LEADERS: A VIDEO INTRO
The proven, easy to follow process for researching, building and telling incredible stories on tour.
LET ME ASK YOU A QUESTION
Do you ever talk and feel like no one is listening you?
Do you struggle to connect with the people on your tour?
Do you wonder how to present information in an entertaining and engaging way?
Do you want to make your experience more memorable

?

Do you struggle to find an authentic way to share the same information week after week?




Well, you're in good company. When we asked the Be a Better Guide Community what they struggled with everyday on tour, these are the exact challenges that people shared. We know, we've been there too. It feels horrible to speak in front of a group and feel like you're failing or finishing a tour knowing that you really didn't give it your all.




This program is here to help.
INTRODUCING...


What Will I Learn in This Program?
We offer a step-by-step system to brainstorming, workshopping and presenting compelling stories on tour. You'll get the tools you need to consistently engage your audiences and practical, down-to-earth tips for crafting powerful narratives.
Below, we share our exact curriculum — so you can make sure this program is right for you.

How Does it Work?
After a one-time purchase or by using our easy payment plan, you'll have instant access to all of our online training materials. You'll be able to learn at your own pace and focus on which ever lessons you choose.
Will My Membership Expire?
Nope! Lifetime access means no expiry. Not only will you be able to revist these materials as much as you like, but you'll also automatically receive any new training materials, lesson updates or program improvements into the future.
WHAT ARE THE REAL, TANGIBLE BENEFITS OF EXTRAORDINARY STORYTELLING
Be More Entertaining and Engaging
As tour leaders, we want to believe that people will pay attention to us automatically, but unfortunately this just isn't the case. And here's the bottom line: The best tour guides on the planet are master storytellers.
They skip the boring facts and figures and instead use the power of narrative to keep audiences hanging off their every word. They are adept at transforming everyday information into compelling stories and have a nose for which stories to use - and which stores to lose.
Dozens of scientific studies from around the world have consistently shown that the human brain remembers stories substantially better than data, facts and figures. As tour leaders in the information age, in order to stand out from the crowd we need to make our tours as memorable as possible!
Guests don't need tour guides to access raw facts, figures and data - the internet is doing that pretty darn well these days. They DO need tour leaders to package and assemble that information and deliver it in thoughtful, engaging and entertaining ways. In other words: Less facts - more stories. More stories - more memorable experiences for your guests to review.
Develop a Competitive Advantage
Potential customers are looking for tour businesses that actually offer unique experiences. Honing your skills as a story researcher, a story creator and a story teller is one of the most effective ways to differentiate your tours.
Why? Because no other tour has you or your team! Your captivating stories, shared in your unique voice, are impossible to copy. Successful tour businesses know this and even share teasers of the many stories their guests could hear... so long as they book a tour. In a crowded marketplace - let stories be your secret weapon!
Drive Word-of-Mouth Referrals
We speak with successful tour and activity operators everyday, and when Viking Splash Tours in Dublin told us that the storytelling of their guides was one of the key reasons they've 10x their sales - we believed them! A few years back, they took the time to find funny, insightful stories about Dublin AND made sure their tour leaders had the skills to deliver these narratives.
Word spread that their amphibious tours were one of the best introductions to Dublin - and the rest is history. They went from one vehicle running tours on a daily basis, to 10 vehicles running non-stop through peak season! They credit their guides' skilled storytelling as the core driver of their incredible word-of-mouth growth.
Beyond the incredible ability of storytelling to help you sell more tours, there are many important reasons to hone your storytelling skills. If you want to open the minds of your visitors to new perspectives, liberate people from stereotypes, or move people to action - scientific studies show that, time and time again, stories are one of the most persuasive and engaging tools.
There is a reason that companies all over the world spend billions of dollars on brand storytelling and why charities, NGOs and social movements use stories to move people to action and raise awareness. As tour leaders, our stories can create meaningful understanding across cultures and help visitors to not only see what is different, but also see what brings us together.
Here are the most common storytelling frustrations we've heard from guides around the world:
* I don't know how to turn my facts into interesting stories
* I tend to ramble and lose the point
* I don't know how to end my stories with a bang
* I don't know if my audience is listening - or even cares
* I don't know where stories fit inside my tours.
* I am never sure how much detail to use.
* I don't know where to find good stories
* I get bored telling the same story over and over
*
I struggle to share my culture with people from other parts of the world
We've listened - and we're here to help.
YOUR COMPLETE STORYTELLING TOOLBOX

We created the most practical, down-to-earth, storytelling program we possibly could. As guides ourselves, we knew exactly which techniques and strategies would ACTUALLY be useful while leading tours.
Specifically you'll learn how to:
Craft stories quickly from scratch that captivate your audiences

Connect more deeply with guests from different cultures and backgrounds

Speak more authentically (i.e. sound like yourself and not a robot)

Hook audiences right from the start with our 'Guide to Great Beginnings'

Bring narratives to life with our practical, easy-to-use visual aids

Engage and captivate your group using nontraditional techniques like gossip, games and controversy

Use our storyboarding system to create a sense of journey for your tour or activity

Get clear on which stories to tell to which audiences and build your own 'Story Vault'

Identify the most engaging stories in your area using our unique research strategies

Learn how to quickly adapt stories in real time if your listeners lose interest

Inspire your guests to change their beliefs, behaviours and common misconceptions


Avoid our 21 common mistakes while public speaking on tour
YOUR LEAD TRAINER,
SARAH BASSENDALE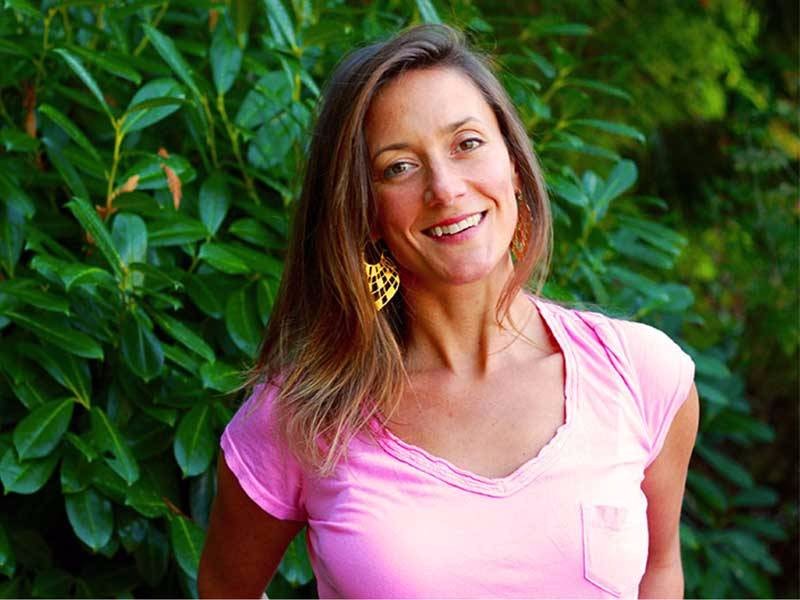 We developed Extraordinary Storytelling for Tour Leaders because of our belief in the power of story to create real connections, to captivate guests and to build successful tour businesses.
Over the years, I've consumed dozens of books, articles, lectures, blogs and courses on storytelling. I've studied with storytelling masters like Professor Hannah Harvey from East Tennessee State University and the New-York times Best selling author Professor Tilar J. Mazzeo. But most importantly, I am a tour leader myself, with over 10+ years of experience trying to tell best stories I possibly could. It was in the field, in front of hundreds of groups, where I truly found what works and what doesn't when it comes to telling great stories on tour.

This program is a cumulation of this study, passion and experience. I whole-heartedly believe that being a great storyteller is not a gift - but a skill that can be practiced, honed and polished.
LEARN FROM THE BEST...
Throughout this program we'll be hearing advice and tips from some of the most iconic storytellers of our generation. We'll hear from Ira Glass, the creator of This American Life, and share his tips for consistently telling powerful stories. We'll use worksheets from the geniuses behind Pixar Animation Studios, whose secrets for crafting compelling plots where at the heart of Finding Nemo, Toy Story and Monsters Inc.
We include advice from award-winning film maker and creator of Muse Storytelling, Patrick Moreau, and get performance tips from live storytellers like professor TJ Mazzeo. Alex Blumberg, the founder of Gimlet Media, shares his blueprint for creating timeless stories and we adapt the teachings of renowned author and master interpreter, Dr. Sam Ham.
We've done the research, read the books and tested to see what really works on tour. Let us be your storytelling guides and give you the shortcuts you need to learn from the best of the best!
WHAT'S INCLUDED IN THE PROGRAM

Extraordinary Storytelling is divided into five core training modules.

All program materials, including videos, transcripts, PDF's, done-for-you resources, cheat sheets, and workbooks, are accessed online within your personal account.
MODULE 1: THE FOUNDATIONS OF GREAT STORYTELLING
In order to become a powerful storyteller, we need to make sure we've got a solid base to work from. Whether you are just getting started with narratives or an experienced storyteller looking to hone your craft - this module starts with the essentials you need to craft extraordinary stories.

We'll share the latest and most up-to-date scientific studies on storytelling and what they teach us about how to keep your group engaged. You'll discover the essential anatomy of a story and techniques for finding great stories in your research. Lastly, you'll receive tools for transforming your facts, data and statistics into compelling stories.
By the end of this module you'll have a firm understanding of the elements (and power) of extraordinary storytelling.
MODULE 2: RELIABLE AND REPEATABLE STEPS TO CREATING STORIES THAT CAPTIVATE YOUR AUDIENCE
We'll take you from brainstorming the most story-worthy moments of your tour to discovering why some stories flow - and others fall flat. We'll look at what makes for great beginnings and powerful endings, how to use the 5 senses to bring your stories to life, and tips for generating authentic emotional connections with your groups.
We will share the full Be a Better Guide Story System - a repeatable process for building an extraordinary story from scratch. We'll take you through every step, plus build a brand new story right along with you. Included are several story-building worksheets and done-for-you resources. This way you'll have the tools you need to work on any story you choose - whether its brand new or one of your favourite crowd-pleasers.
By the end of this module you'll have a repeatable system for honing and polishing your stories and have built a completed story from scratch.
MODULE 3: TAKING YOUR STORYTELLING TO THE NEXT LEVEL
In this section, we get practical advice and experience from some of the most iconic storytellers of our generation. We'll hear from Ira Glass, the creator of This American Life, and share his techniques for consistently telling powerful stories. We'll explore the tricks of the trade from award-winning film maker and creator of Muse Storytelling, Patrick Moreau, and get performance tips from live storytellers like professor TJ Mazzeo.
In this module, you'll stand on the shoulders of giants and get practical, down-to-earth advice from the best of the best in the world of storytelling. In addition, you'll learn how to make connections across cultures and nationalities, create overarching themes and narratives for your tour, and learn how to tell stories in your own authentic, personal style.
By the end of this module you will be able to choose the right story for each audience and connect with your guests in authentic new ways.
MODULE 4: TROUBLE SHOOTING 101
Despite our best-laid plans, there are always ways things can go wrong when storytelling. For example: What if you tell a story and no one pays attention? Or what if you forget your story mid way through? In this module, we're here to help. We prepare you for the most common storytelling challenges - and offer specific advice for handling each situation.
We'll make sure you are not committing any of the '21 deadly sins' of public speaking, offer tips for beating boredom, and ways to enhance your stories on the fly. We'll give you examples of interactive storytelling, props and visual aids that can make a big impact, and even share our best secrets for 'abandoning ship'. (i.e. smoothly and confidently transitioning out of a story that is simply not working)
By the end of this module you will have a complete toolkit for adjusting stories on the fly and be able to transition confidently when things go wrong.
MODULE 5: REAL-TOUR EXAMPLES
What kind of storytelling program would this be without some recordings of great stories inside?? In this module we go through two detailed case studies of stories told live on tour. After breaking down each video, we highlight what's working and where things could be improved.
We demonstrate a full breakdown of an existing narrative and how you can transform good stories into extraordinary ones. You'll see the Be a Better Guide Storytelling System in action and learn from video footage of some truly talented storytellers in action. This library of stories and case studies will continue to grow as we collect submissions and do more live recordings of powerful storytellers.
By the end of this module you'll have experienced the simplicity of the Be a Better Guide Storytelling System and have seen real-world storytellers sharing extraordinary stories.
ENROLL NOW AND GET AN ADDITIONAL $396 IN BONUSES!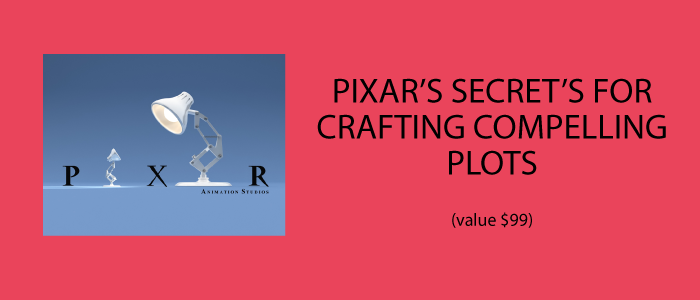 In this workshop, we give you the inside scoop on Pixar's method for consistently crafting great stories. Practical tips, action steps, and best practices from Pixar's very own directors and story artists.
---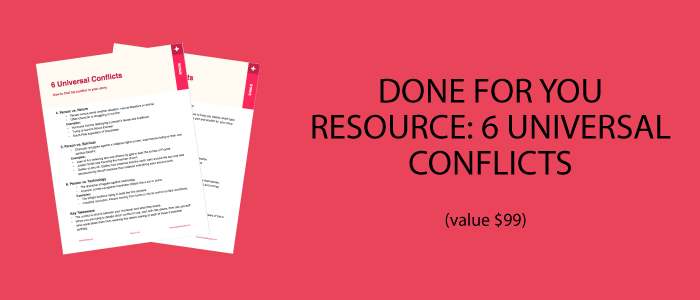 Unsure of how to get the action going in your stories? With these cheat sheets of six universal themes, you'll know exactly what to look for when researching great stories to share.
---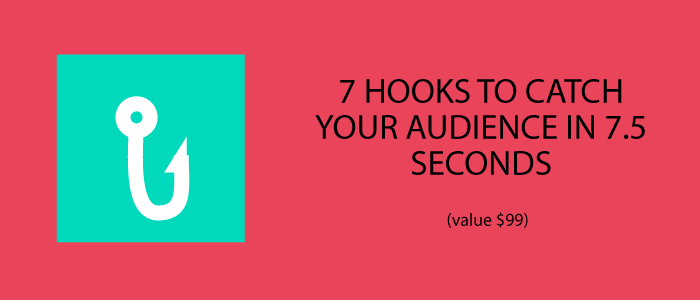 Grab your groups' attention with our ready-to-use guide to great beginnings. Seven plug-and-play hooks to start any story on the right foot.
---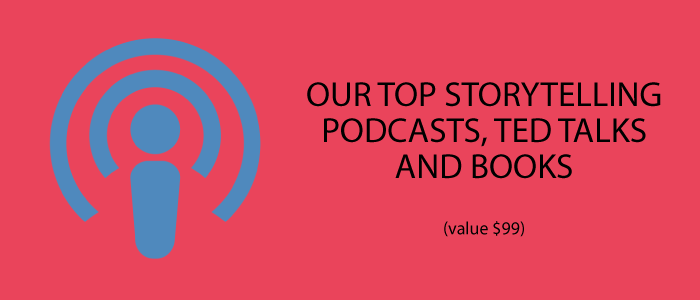 We've handpicked a selection of books, podcasts and TED talks to put you on the fast-track to mastering storytelling. Curated especially for guides, tour leaders and interpreters!
TESTED AND PROVEN TO WORK NO MATTER WHAT KIND OF TOURS, ACTIVITIES OR EXPERIENCES YOU LEAD.
Whether you lead fly-fishing trips or city-tours, run an eco-farm or take people heli-hiking - our step-by-step storytelling system is guaranteed to make you a better guide. Entertaining, engaging and inspiring audiences is what stories do best!
No matter if you tell stories in a more casual and relaxed environment, or are required to speak for up to two hours at a time - Extraordinary Storytelling for Tour Leaders will help you share your knowledge in compelling and memorable new ways.

YOU CAN DO THIS EVEN IF...
"I don't have time"

We totally get it, there are only so many hours in the day. But, as Warren Buffet says, "Investing in yourself is the most important investment you'll ever make in your life." If there is just one skill that can 10x your abilities as a tour leader, storytelling is it.
"I'm not a storyteller"
We used to feel the exact same way. We are firm believers that anyone, anywhere can learn to be a captivating storyteller. It is not some gift you need to be born with. We'll give you the tools you need to reliably create and tell powerful, engaging stories.
"I don't have any story ideas"
No problem! We begin the program with a guide to helping you find compelling stories - no matter what kind of tour or experience you lead.No experience is necessary when to join.
Frequently Asked Questions
When does the program start and finish?
The program starts now and never ends! It is a completely self-paced online program - you decide when you start and when you finish.
How long do I have access to the program?
How does lifetime access sound? After enrolling, you have unlimited access to this program for as long as you like - across any and all devices you own.
What if I am unhappy with the program?
We would never want you to be unhappy! If you are unsatisfied with your purchase, contact us in the first 30 days and we will give you a full refund.
Will my membership ever expire?
Absolutely not. You will have lifetime access to the Extraordinary Storytelling learning portal, plus receive any upgrades, additions and improvements to the course over time.
Learn on Your Own Terms
Any Pace. Any Place.

No travel required! You can take this program from work, from home, on your commute, or basically anywhere in the world you have an internet connection.
Our online learning system will track your progress and remember where you are each time you login. Want to start a session on your computer then take it to go on your phone? No problem!
Our program is hosted entirely online and is completely mobile responsive. If you have never taken an online program before, you are going to love the ability to stop, start and revisit the lessons as many times as you like.
SATISFACTION GUARANTEED
When you're running a business, every penny counts! That's why you have 30 full days to test drive Extraordinary Storytelling for Tour Leaders and decide of its right for you. We wholeheartedly believe that our program can radically transform your tours. But we want you to feel confident in trying it out for yourself!

That's why we have a 100% Risk Free Guarantee.
If you do the work, put in your best effort, and feel that we haven't delivered on Extraordinary Storytelling For Tour Leaders, we will issue a 100% refund within 30 days.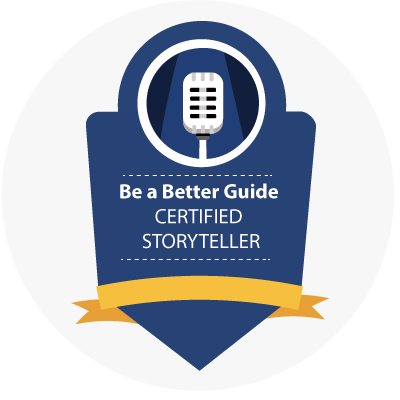 CERTIFIED STORYTELLER

Upon completion of our program, you'll receive an Extraordinary Storytelling badge to display proudly in your office, brochures or on your website.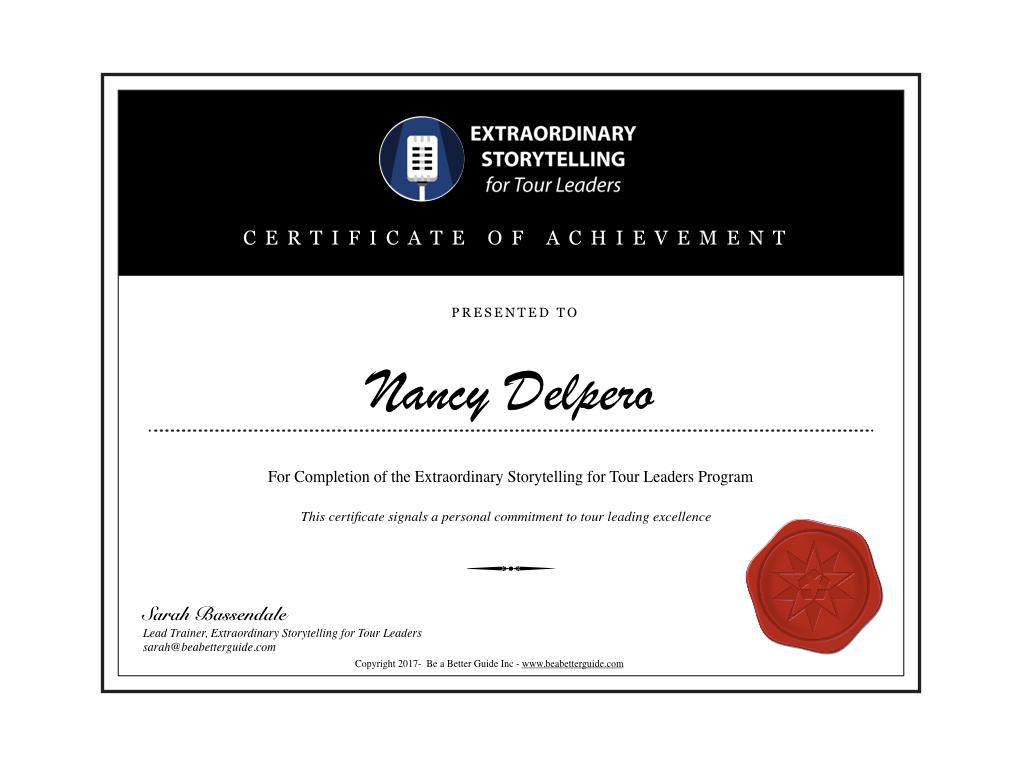 LET US BE YOUR COMPETITIVE ADVANTAGE!
After completing the program you'll also receive a personalized certificate. Credentials, awards and certifications are all powerful signals to your potential customers that you are committed to tour leading excellence. Make your business stand out from the crowd!
WHAT HAPPENS WHEN YOU BUY?
STEP 1: ENROLL IN PROGRAM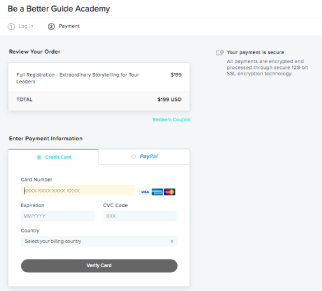 Choose the one-time payment option (saves 15%) or our easy payment plan.

STEP 2: GET IMMEDIATE ACCESS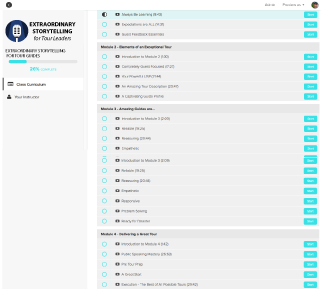 You'll get full access to the entire program, so you can dive right in!
STEP 3: START BUILDING STORIES

Join our private Facebook group and start building your first story right away!

HAVE ANY QUESTIONS ABOUT THE EXTRAORDINARY STORYTELLING FOR TOUR LEADERS PROGRAM?

Simply e-mail [email protected] and we'll get back to you ASAP.