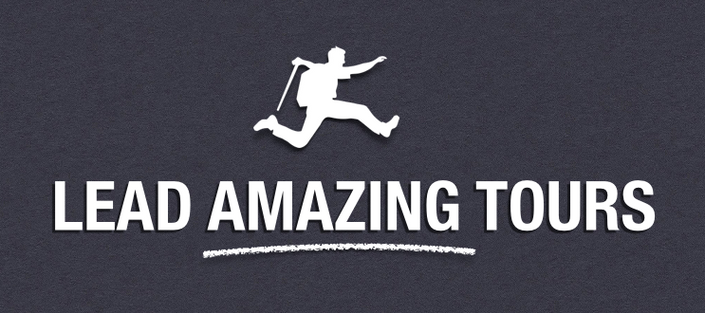 Lead Amazing Tours
A Step-by-Step System to Give Unforgettable Experiences, Get Rave Reviews and Earn More Customers
Watch Video
Enroll in Program
As Featured In:

WELCOME!
I'm thrilled you're interested in our Lead Amazing Tours Coaching Program.
Whether you're launching a brand-new business or taking your existing tour company to new heights, we're here to help turn your tour business into a 5-star review machine.
Our online program will give you a complete blue-print of what the most successful tour companies on the planet are doing right now.
With our step-by-step system at your side, you'll ask the tough question that every guide must face: 'Is my tour or activity truly memorable?'
By the end of this program, you will be able to answer that question with a resounding 'Yes!' and will have the skills, techniques and strategies to be giving your customers experiences of a lifetime.
We've enrolled companies and guides from over 40 countries around the world, and seen them refine, develop and grow their tour and activity businesses in ways they never thought possible.
We would love to help you do the same!
INTRODUCING...

WHAT EXACTLY IS LEAD AMAZING TOURS?
An online, video-based training program created and designed by world-class tour guide trainers, trip development experts and tourism marketing specialists. Our learning software and lessons are hosted completely online, so no installing programs and no large file downloads.
WHAT AM I GOING TO LEARN IN THIS PROGRAM?
The quick answer? You'll receive a step-by-step system to give unforgettable experiences, get rave reviews and earn more customers. It will give you the tools you need to consistently hone and polish your tour and activity offerings, plus share the best practices of some of the most successful tour companies on the planet. It's all about helping you build, sustain and grow a successful tour and activity business.
We also know that when you're making an investment in your company, it's important to know what you're getting. That's why we share our exact curriculum — so you can make sure this program is right for you. See below for a complete description of our lessons.
HOW DOES IT WORK?
Our Lead Amazing Tours program is accessed by a one-time payment (or multi-month payment plan), which will then give you lifetime access to the materials. After registering, you'll instantly be taken inside of the learning portal. There is no set schedule or 'dripped' content, so you'll be able to learn at your own pace and focus on whichever lessons you choose.
WILL MY MEMBERSHIP EXPIRE?
Nope! Lifetime access means no expiry. Not only will you be able to revisit these materials as much as you like, but you'll also automatically receive any new training materials, lesson updates or program improvements into the future.
As the founder of Be a Better Guide, everyday I get e-mails from the 17,000+ guides and tour companies in our ever-growing community.
And the interesting thing I've noticed is this. We are all facing the exact same challenges:

How can we get our tours to stand out in a crowded marketplace?
How can we create experiences for travellers that will excite them enough to leave glowing online reviews?
How can we drive more word-of-mouth recommendations?
What are the key elements of a successful tour?
How can we market, position and get the word out about my tours?
And most of all, how can I sell more tours??

Does any of this sound familiar?

Furthermore, if you are like most tour and activity businesses, you find that there are a million and one things to do every day… everything from managing bookings, payroll, accounting, marketing, social media management, customer service, online promotion, advertising, training, and the list goes on and on.
It's so easy to feel overwhelmed… to feel alone, and to not know where to turn to find answers.
But it doesn't have to be that way.
Here are some of the REAL, TANGIBLE, BENEFITS you will receive from leading extraordinary tours:

1) You build a steady stream of 5-star reviews
No matter what niche your tour is in, you always need to focus on getting more rave reviews and online recommendations.


After leading hundreds of tours over the past ten years, I can tell you that the key to keeping these rave reviews flowing, is to have a team of trained, extraordinary guides.
2) You turn your customers into word-of-mouth, referral machines
If you can truly knock their socks off, your own guests are going to be marketing and selling your tour more actively than you ever thought possible.


Think of what you could do with the money you are spending right now on marketing, advertising and paying out commissions if you tour was remarkable enough to earn steady word-of-mouth referrals.
3) You are able to raise your prices
By delivering an above average level of customer service and close attention to your guests, you will be able to command premier pricing.


There is a reason companies like Backroads, Country Walkers, Butterfield and Robinson and Gray and Co. can charge such a premium for their tours… it's because they have incredible guides who consistently deliver incredible service.
4) You will Sell More Tours
For over three years I researched, designed, and implemented trips for Backroads Tours. Whenever I was building an itinerary, I would immediately seek out the best local guides and most remarkable regional tours.


If I met a guide that truly cared about his guests and was able to reliably deliver outstanding experiences for my tour, I had the power, on the spot, to book them solid for an entire season!


Travellers are hungry for exceptional experiences, and so are the travel agents, cruise ships and international tour operators that serve them.
Real Businesses. Real Results.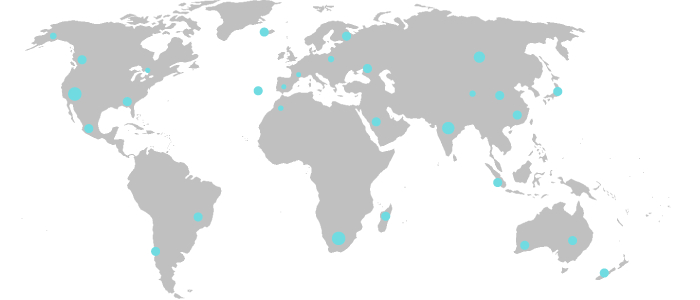 The Online Tourism Academy includes tour businesses from 35+ countries, including Canada, USA, Australia, Finland, England, France, the Netherlands, Ireland, Scotland, Sweden, Norway, Russia, Georgia, Hungary, Israel, Mexico, Peru, Chile, Argentina, the Maldives, St Kitts and Nevis, New Zealand, Vietnam, Japan and beyond! Every month more and more tour and activity operators are joining the program and transforming their businesses.
And if they can get these kinds of incredible results - so can you!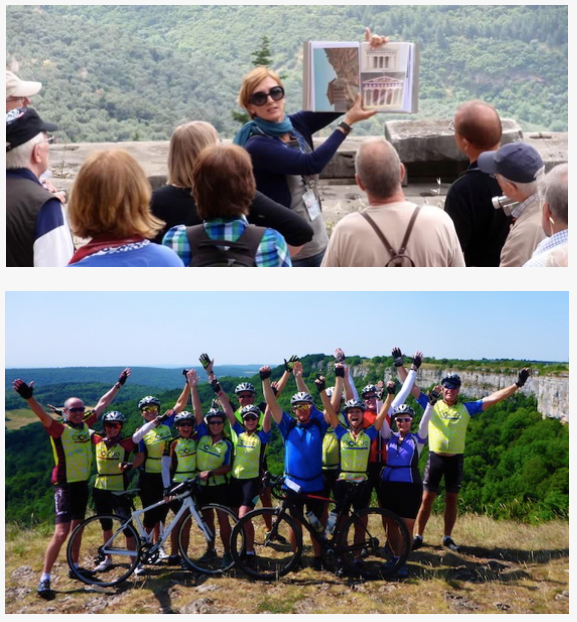 HEAR FROM OUR GRADS + COMMUNITY
We're honoured to have so many outstanding reviews from our Academy graduates. Our online community of passionate guides and tour businesses from around the globe speaks to the transformative power of our online programs.
Meet Clint
Clint is an entrepreneur who started Twisted Vine Wine Tours in the Lewis Clark Valley. Clint had to be REALLY careful with how he allocated every bit of his time and money. After enrolling in Lead Amazing Tours and implementing some simple processes, his business grew 350% over the previous year!
"My return on investment has been huge with the Lead Amazing Tours Program. I would do it again in heartbeat"
"Kelsey's online training has really helped underpin our own training and coaching sessions. If you are looking for simple, clear ideas and actions on how to improve your guiding ability then I highly recommend checking out Lead Amazing Tours."
Ruth Franklin
"Kelsey has EASILY the best training videos and material for tour guides, anywhere. Any time a guide comes to me for advice I just point them straight to Be a Better Guide"
Matt Newton
CEO and Founder Tourism Tiger
WHAT'S INCLUDED IN THE LEAD AMAZING TOURS ONLINE PROGRAM?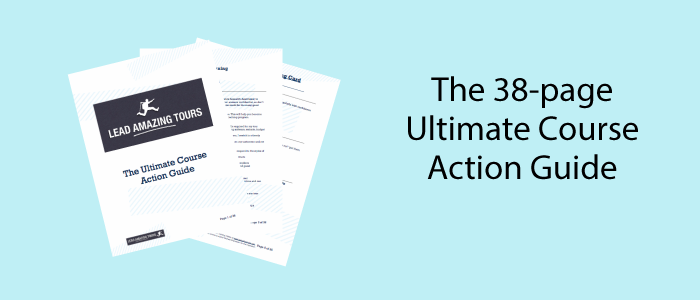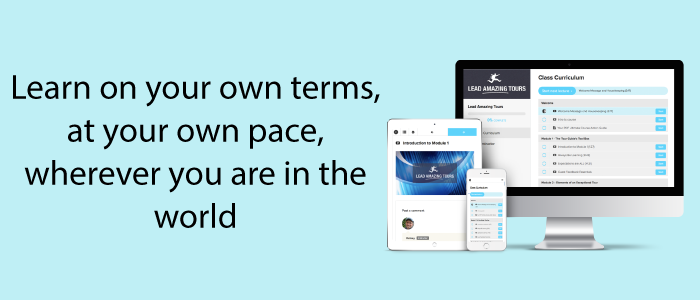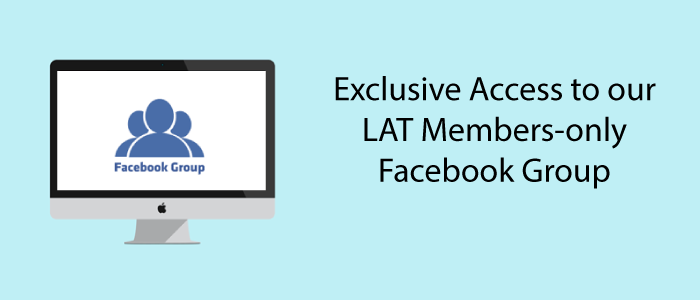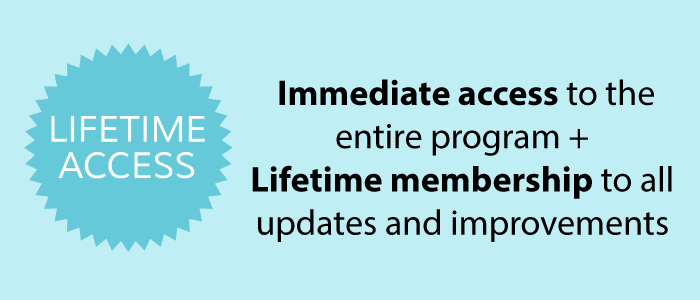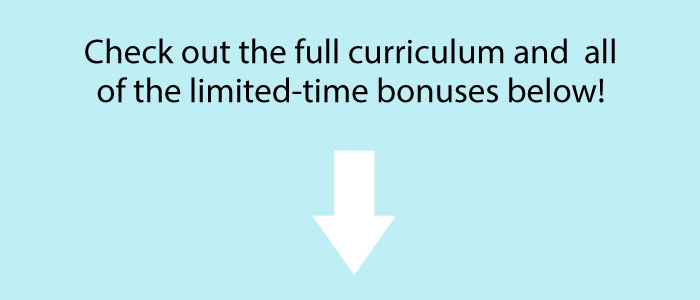 Here's just some of what we'll cover inside...

Module #1 - The Tour Guide's Tool Box
-The exact steps to setting up a world class feedback system and how to implement it with your guests.
-Why numbers matter and the most common mistake tour businesses make with their evaluations.
-How to calibrate and manage your guests' expectations right from the start.
---
Module #2 - Elements of an Exceptional Tour
-The exact steps to creating a powerful tour description and a captivating guide profile.
-How to get people drooling over your tour and searching for the 'book now' button.
-The 'riches of the niches' and advice for avoiding the race to the bottom price wars.
---
Module #3 - Amazing Guides Are...
- A complete breakdown of what makes an incredible tour leader.
- The techniques you and your guiding team can use to be reliable, reassuring, empathetic, responsive, ready for disaster and expert problem solvers.
-9 insider secrets to making your guests feel special.
---
Module #4 - Delivering a Great Tour
-A step-by-step blueprint for the beginning, middle and end of the perfect tour.
-Advice and inspiration on creating (and replicating!) magic moments for guests.
-The definitive guide to public speaking with 67 tips from the world's top speakers.
---
Module #5 - Managing Your Online Reputation
-A complete system for generating more online reviews and climbing the rankings.
-Eight rules for responding to your reviews + Five Be a Better Guide best practices.
-Creative, real-world examples from tour companies responding perfectly to positive and negative reviews.
---
Module #6 - Money Matters and Lifestyle Design
-Pricing your tour: The four surprising factors that control how much you can charge.
-5 simple, but rarely used, pricing strategies that tour companies can use to earn more revenue.
-How to earn more money as a tour guide and six non-obvious ways to grow your income.
-My lessons (eventually) learned for keeping up your energy and avoiding burnout.
---
Module #7 - Expert Panel
-We surveyed the entire Be a Better Guide community for their most common frustrations and challenges while working in the field. We then put these questions to an experienced panel and heard how they might tackle each 'real-world' scenario.
-Everything from interrupting guests tactfully and dealing with pushy customers, to children on tour and what to do with your group in a medical emergency. Real, practical, and full of actionable advice to overcome some of the most challenging elements of tour leading.
---
Module #8 - Be a Better Guide Video Library
-Love our free training videos on Beabetterguide.com? So do we!
-Inside Lead Amazing Tours you'll have complete access to every free training resource we've ever made.
-Look back through some of your favourites or discover some new videos you may have missed!
Course Curriculum
Welcome
Available in days
days after you enroll
Module 1 - The Tour Guide's Tool Box
Available in days
days after you enroll
Module 2 - Elements of an Exceptional Tour
Available in days
days after you enroll
Want Bonuses? We've Got 'Em!
I'm a big fan of going the extra mile. Of creating an offer so crushingly awesome, that you are completely blown away by all of the value you'll be receiving!
That is why I'm also offering in the following bonuses IF you register before enrollment closes on November 27th, 2018.
BONUS #1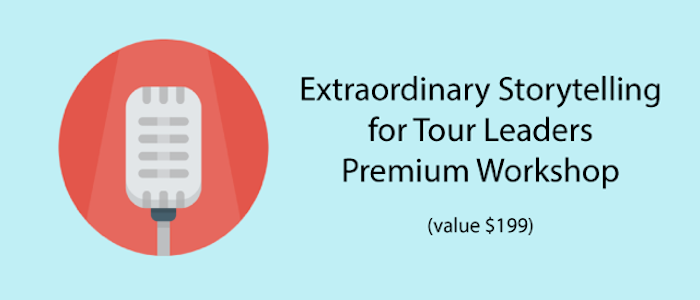 BONUS #2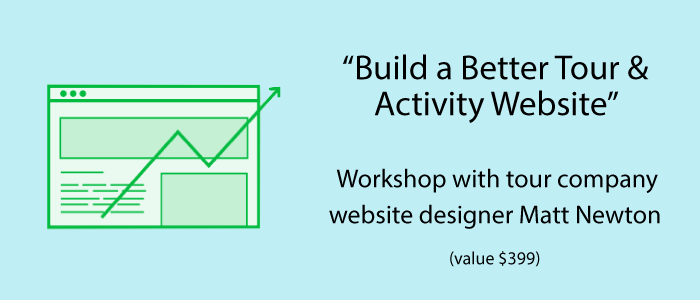 BONUS #3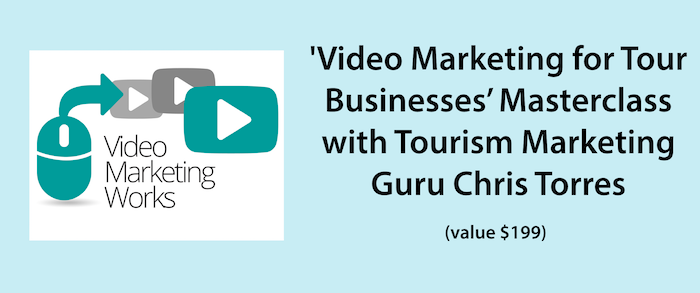 BONUS #4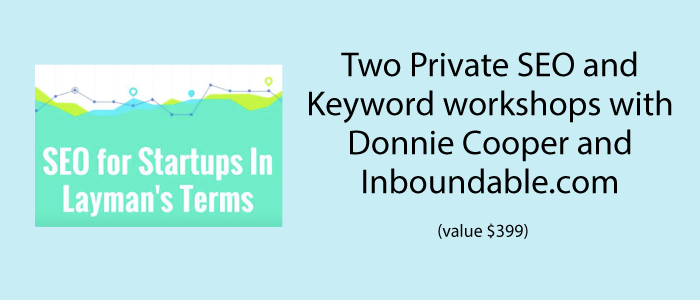 BONUS #5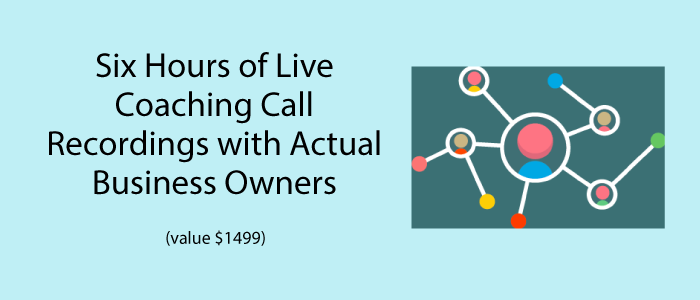 BONUS #6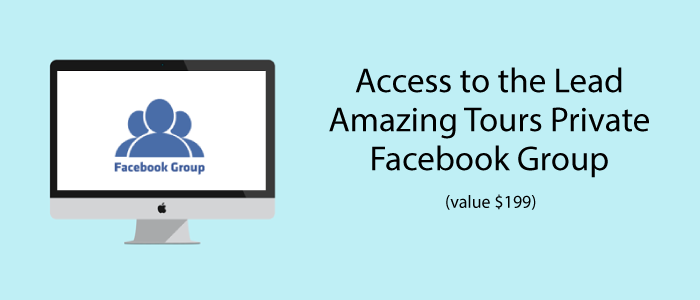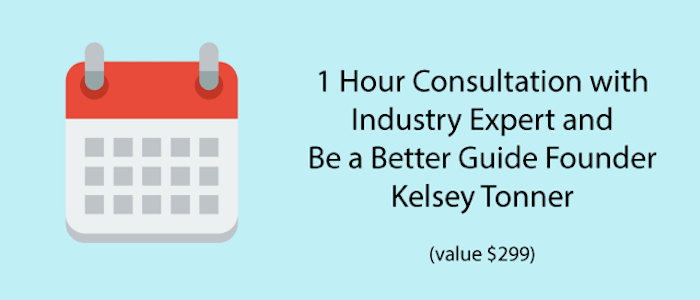 Add all that up, and you will receive $3,194 in value just from the bonuses alone!
Comparable training programs from educational institutes or the World Federation of Tourist Guide Associations all charge approximately $2000 and up for their training programs, plus you must enroll in person, and only at certain times of the year...
I'm here to tell you there is a better way
"In essence, learning and development is at the core of what high performing tour companies do."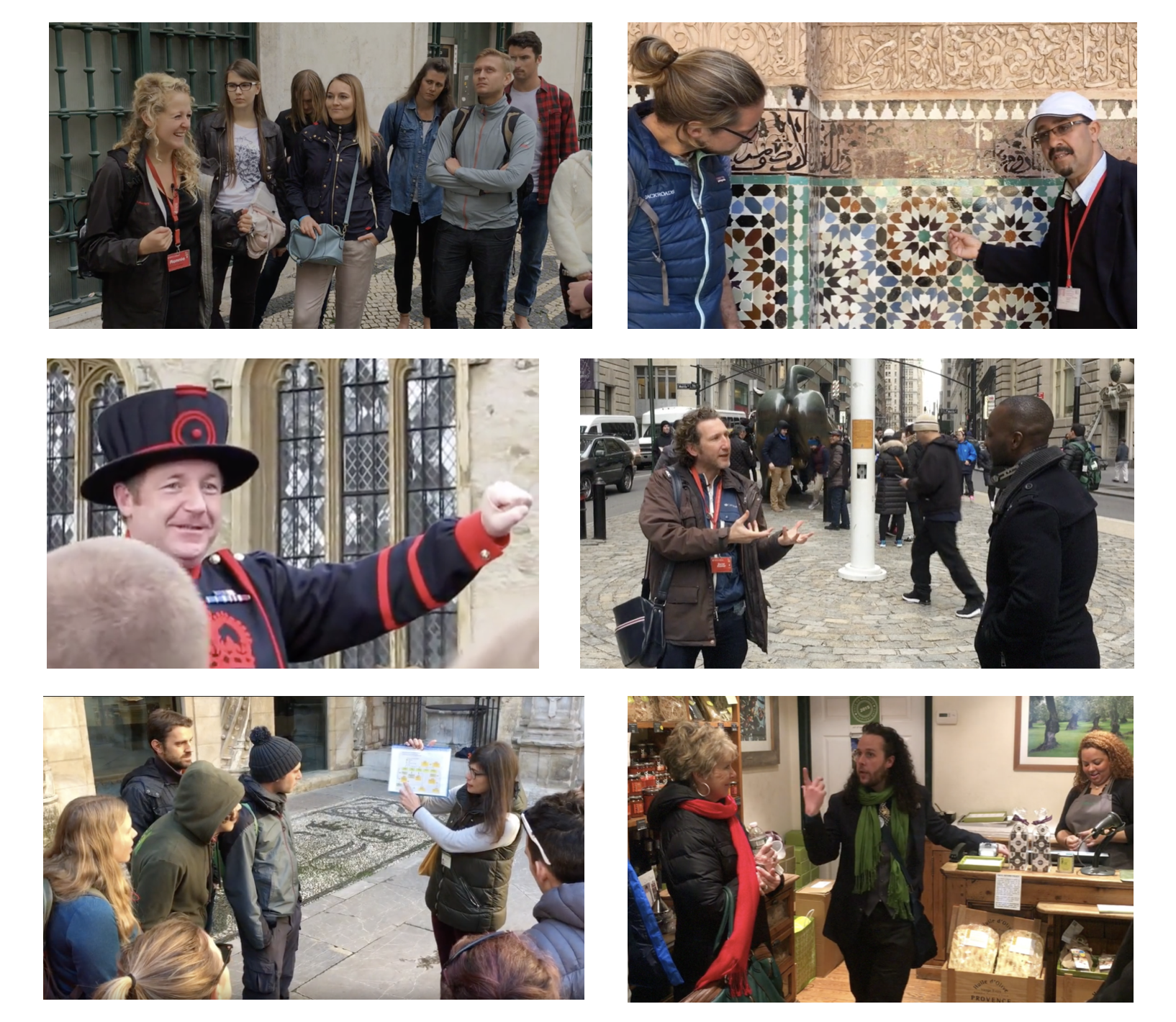 Meet Della
Della is a small tour business owner in Isreal and Lead Amazing Tours has given her the peace of mind she needs to excel in her career. Learn how Della Tours Israel has benefited from her new global support network.
"Would I recommend that you sign up for Lead Amazing Tours? Hell Yes! Absolutely. Without a shadow of a doubt!"
"I watched all of your training videos a few weeks ago and I just wanted to let you know that I have had my tips increase incredibly! Thank you so much for your guidance...I can honestly say that it has made me enjoy my job more than ever."
Philadelphia, USA
"As a first time tour guide, I really needed some help understanding the important elements of being the best that I could be. Kelsey's training provided me with tips and tricks that I had not considered and gave me confidence that I was on the right track."
Emily Araman
Cruising Cairns Bike Tours
After ten years of leading tours all over the world, designing tours from the ground up and professionally training tour guides, I can tell you this:

Leading extraordinary tours and creating once-in-a-lifetime experiences for travellers is the bedrock of a successful tour business.
All purchases are backed up with our 30-day, no questions asked, Money-Back Guarantee.
Try out the program for 30 days and if you aren't happy, we will refund 100% of your money.
OTHER BENEFITS OF OUR ACADEMY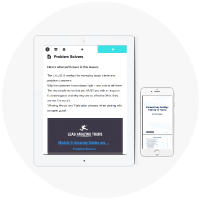 GRAB & GO TRAINING
Tired of sitting through 90-minute presentations? So are we. That's why we've broken down our core training into short, digestible videos. Each lesson is between 10-20 minutes long. We want you to learn, implement, and take action as quickly as possible without overwhelm or brain fatigue.

TRACK PROGRESS
You will be able to easily login and track your own progress through the program. You can see exactly which modules and assignments you've done, and which you still have to do. We'll help you stay motivated and on track to complete the program.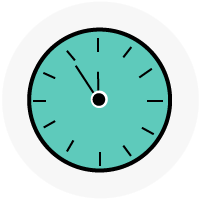 PROFESSIONAL DEVELOPMENT - ON YOUR TERMS
After enroling, you have unlimited access to this program for as long as you like - across any and all devices you own. Translation? Skill-building, training and professional growth can take place on your schedule - giving you more flexibility and more options.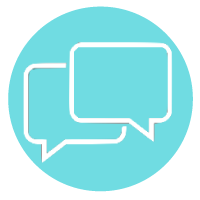 DYNAMIC SUPPORT AND LEGENDARY CUSTOMER SERVICE
LESSON COMMENTS
Under each training video, students have the opportunity to comment and get responses from fellow members. Our instructors will also be visiting these comments, offering clarification, ideas and other perspectives to fellow learners.
BE A BETTER GUIDE SUPPORT
As always, we're here to serve you. If you have technical issues or are simply having a challenge you need help with, write [email protected] and we'll be happy to take care of you.
YOUR GLOBAL SUPPORT NETWORK
In our private, members-only LAT Facebook group, you can get your questions answered, celebrate your victories, or get an encouraging word when you need it. The real benefit is networking with the 100+ likeminded tour businesses from around the world, sharing best practices and discussing common challenges. With a global community participating, questions are rarely left hanging!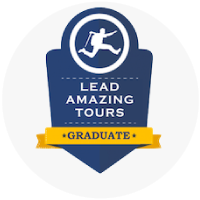 LET US BE YOUR COMPETITIVE ADVANTAGE!
Upon completion of our Program you'll receive a digital Lead Amazing Tours Badge to display in your office, brochures or website. We know that you are committed to outstanding customer service and leading unforgettable tours, but with this highly-visible credential, now your guests will know too!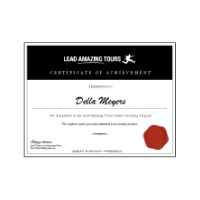 CERTIFICATE OF COMPLETION
After completing the program you'll also receive a Lead Amazing Tours Personalized Certificate. Credentials, awards and certifications are all powerful signals to your potential customers that you are committed to tour leading excellence. Make your business stand out from the crowd!
The Lead Amazing Tours program will show you, step by step, how to give your guests the experience of a lifetime.
It will give you the tools you need to consistently hone and polish your offering, plus share some of the best practices of the most successful tour companies on the planet.
Your Instructor
Kelsey Tonner is an experienced, global tour guide and founder of the Be a Better Guide Project, a movement that brings together tour guides and tour operators from around the world to learn from one another.
His mission is to help anyone, anywhere, create extraordinary experiences for travellers. With over ten years experience in the industry he has led trips in over fifteen different countries from Europe to the Americas and from Asia to North Africa. He has been a wilderness trip leader, a dog-sledding guide, a volunteer coordinator in an Inuit community and spent four years leading hiking, biking and multi-sport trips with Backroads Canada.
He has visited over sixty countries and set foot on all seven continents. In 2015 Kelsey was chosen from thousands as one of eight shortlisted guides for the Wanderlust World Guide Awards. With practical yet wisecracking advice, Kelsey inspires a global community of professional tour leaders and businesses to give people memories of a lifetime, and helps them earn more money while doing it.
Read more: http://www.beabetterguide.com/about/
Frequently Asked Questions
Can I use my online membership to train my entire team of guides?
The short answer is no, your username and password are just for you and not for sharing with your employees. But here is the good news: We also build custom training portals specifically for coaching, mentoring and inspiring teams of leaders! Learn more about our custom training portals right here: https://www.beabetterguide.com/custom-online-training-tourism-industry/
I've got a ton of experience myself, why should I consider enrolling in your program?
I want to give you the blueprint to earning more sales, getting more rave reviews and driving word of mouth recommendations. If you are an experienced guide, hopefully I will be able offer some fresh perspectives and push you to think differently about some aspects of your tour. If you enrol and aren't satisfied with what I'm offering, simply ask for your money back within 30 days and I'll give it to you - no questions asked.
What is the Lead Amazing Tours private facebook community?
As you go through the program you'll have the full support of an incredibly strong community of fellow Lead Amazing Tours students. This will be a private, members-only Facebook group where you can get your questions answered, celebrate your victories, and get an encouraging word when you need it. You are never alone. You will be building an incredibly strong support network for you, your business, and your goals.
What's your refund policy?
All purchases are backed up with our 30-day, no questions asked, Money-Back Guaruntee. Try out the program for 30 days and if you aren't happy, we will refund 100% of your money. That is called putting your money where your mouth is.
How long do I have access to the course?
How does lifetime access sound? After enrolling, you have unlimited access to this course for as long as you like - across any and all devices you own. In addition, you'll receive all upgrades, additions and improvements to the program over time!
When does the course start and finish?
The course starts now and never ends! It is a completely self-paced online course - you decide when you start and when you finish.
Will my membership ever expire?
Absolutely not. You will have lifetime access to the Lead Amazing Tours online learning portal, plus receive any upgrades, additions and improvements to the course over time.
What is the difference between the 'Lead Amazing Tours' program and your 'Custom Training Portals'?
The main difference is that Lead Amazing Tours is a program for single guides, entrepreneurs or tour business owners. Once enrolled, you will have lifetime access to the materials - but only one login. Our Custom Training Portals are designed to help companies coach and mentor multiple staff members at once. This program requires an annual membership, which is based on the number of team members you want to enrol. Lastly, Lead Amazing Tours includes several additional modules that focus on the business-side of running a tour company. This includes lessons on pricing tours, marketing and designing products, monitoring your online reputation, optimizing your website and managing reviews. These topics are generally not covered in the custom portals. Learn more about our custom portals here: https://www.beabetterguide.com/custom-online-training-tourism-industry/
Meet Anna
Anna is building a new tour company in the capital of Georgia, tucked away in the beautiful Caucasus Mountains. Because she was brand new to the industry and creating a tour business from scratch, she jumped at the chance to enroll in our program. After just seven months in Lead Amazing Tours, Tbilisi Free Walking Tours reached number #1 on TripAdvisor, they have seen their tours full almost everyday, and they are receiving a steady stream of positive online reviews!
"Don't even hesitate, you'll love it. Thank you very much Kelsey. HUGE thanks from Georgia!"
"Be a Better Guide is an amazing initiative and a powerful tool for achieving excellency within the tourism industry. We're proud to collaborate with Kelsey : his wonderful energy is just contagious!"
Founder and CEO U2Guide.com
Have a question we didn't get to? Want to speak to somebody at the Online Tourism Academy?
Simply e-mail [email protected] and we'll get back to you ASAP.
JOIN TODAY AND SET YOURSELF ON THE PATH TO LEADING AMAZING TOURS
On behalf of myself, our team and the entire Online Tourism Academy, we sincerely hope to have the honour and privilege of working with you.
---
Click below to enrol now, and we'll see you inside!